Sometimes we forget how fortunate we are in the Piedmont. It's a beautiful and friendly place. Mountains, foothills, lakes, streams, rivers and ponds. Pooch paradise. And so very close to the DC metro area. An easy day trip.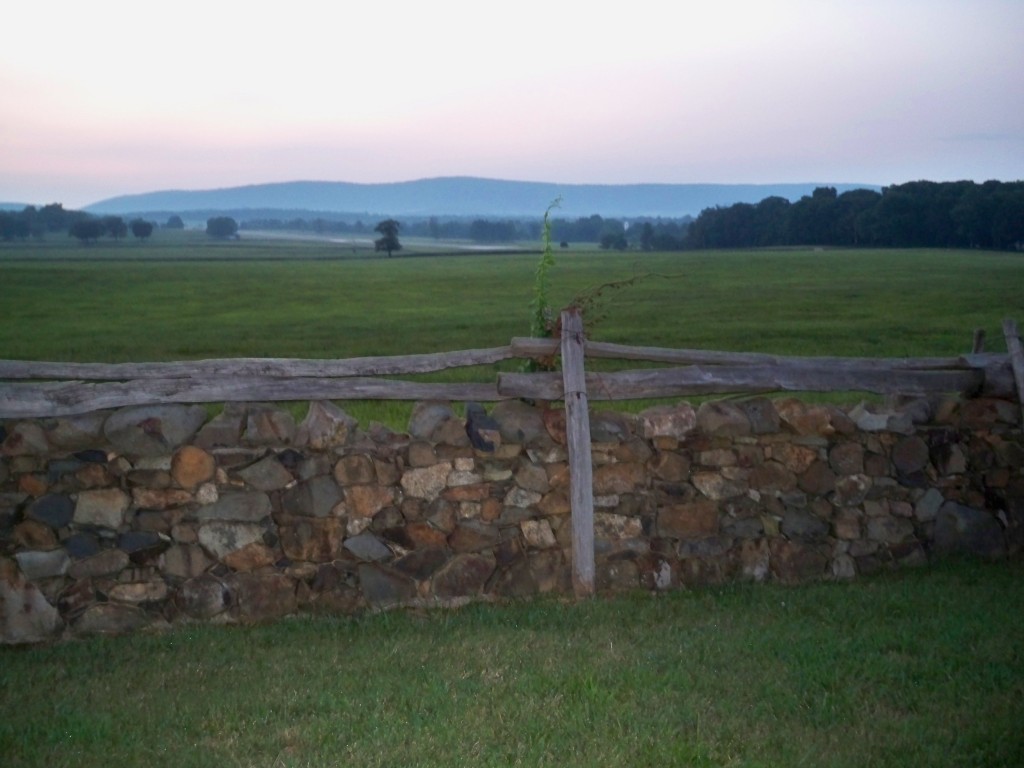 Looking for dog friendly weekend destinations? We have quite a few. This is just the first in a series we'll be doing throughout the summer.
Our first doggie destination is The Plains, Virginia. We recommend you bring a cooler with you. Take Exit 31 off of I66 (Route 245/The Plains) and turn towards the town of the Plains. You'll see Archwood Green Barns Farmers Market and Dream Acres Coop immediately on your right.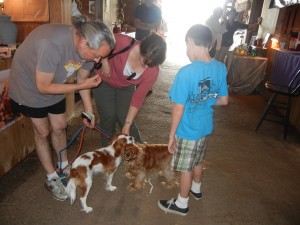 On Sundays from 11-3, this place is hopping! The Farmers Market is in full swing now and you'll find everything from locally grown fruits and veggies to beautifully crafted gourd birdhouses, native plants, homebaked breads and sweets, salsas and guacamole (we're almost hesitant to share these), handmade jewelry, more food – let's just say there's a whole lot of good here.
There are two buildings – both converted old barns. The market spills out into the outdoors as well.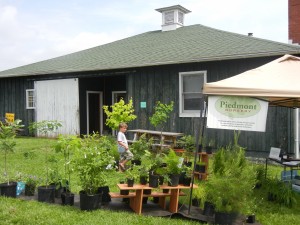 After exploring the large building, step across the parking lot to Dream Acres Coop (Dream Acres is open Sat/Sun 10-4). Here you'll find a full spectrum of locally produced foods – including Pawgevity Formulas and Chewz – they term themselves the "unsupermarket".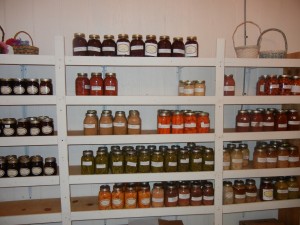 And, come hungry, because they serve up delicious healthy country style lunches washed down with home grown herbal iced teas. You must have a slice of whatever pie Kimberly's offering. You can treat your pooch to a Chewz treat and everyone's happy.
After all that good eating, you all may be ready to take a little walk. Turn to the right on Rt. 245 and head into the town of the Plains. It's a cute little village with great shopping and dining and worth taking a stroll. To follow that up with a longer walk, turn left at Main St. (Rte. 55) and travel towards Marshall. If you happen to fall behind a farm vehicle, please slow down and enjoy the scenery.
Soon enough, you'll see The Northern Fauquier Community Park on your right. This is our little gem.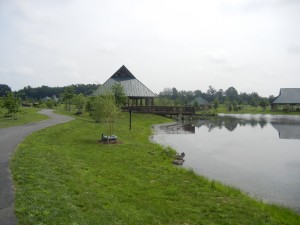 Complete with pond, shaded picnic tables and a circular, flat walking path. Your dog's in heaven by now. We'd been told that the entire circle walk is one mile. Sometimes we think it may be two. Please be sure to keep your dog on leash and use the doggie bags conveniently provided. Your dog will, inevitably, meet a new friend here as this is a fave for locals to get some exercise.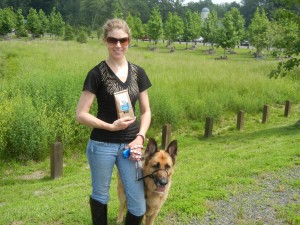 Looking for a new friend? Right across Whiting Road is the Middleburg Humane Foundation farm sanctuary.
We are particularly fond of them as this is where we adopted Polly and Russ back in 1997. Available for adoption are cats, dogs of all kinds, horses, goats and sometimes even pigs and other farm animals. Please call ahead for adoption hours.
And now, you've earned a bit of rest and relaxation. Take a right out of the park and continue through our little town of Marshall. You may not be hungry this trip but note Joe's on your left. They have a hidden patio in the back where you can enjoy pizza made by a native Sicilian as your dog curls up at your feet. If Maurizio's cooking and in a good mood, you can order off menu and ask for whatever his pasta special is that day. Tell him Carole and Norman put you up to it.
Continue through Marshall on Main Street (Rte. 55). In about three miles, you will reach Delaplane. Watch for Barrel Oak Winery on your right (they always have balloons on their sign to help). BOW is the ultimate in dog friendly and your leashed dog is welcome both outside and in the winery.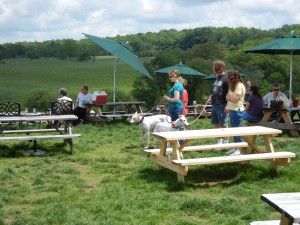 Brian and Sharon Roeder, the owners, are big time dog lovers and have quite a few of their own. Their staff share that love. We think perhaps it's a prerequisite to being hired. Weekends there's always something going on – live music, fundraising events, fun. Sidle up to the tasting bar – pick a favorite, get a glass and then find your favorite seat – indoors or out – as you and your pooch make new friends. The view of the Blue Ridge is spectacular and it's a casual, laidback atmosphere. They even provide wading pools for the dogs in the summer. If you've run out of Pawgevity, here's another spot you can pick it up (OK, a blatant plug)! Hint: Don't miss the picturesque valley view from the upstairs loft.
Enjoy yourselves! What are your favorite dog destinations?