A
dog. So, we went to visit our friends at Middleburg Humane Foundation. We had no particular type of dog in mind. Just looking. Freddy, an Australian Cattle Dog X, caught our eye. Hilleary Bogley, founder of MHF, was with us.
"Oh, no, you're not adopting him!" Hilleary is nothing short of honest. "He lifted his leg and tried to pee on me yesterday. He needs to go to a working farm". OK.
Norm turns around, sees something, and points. "What's with those two?" There sat a little mess of a black and gray terrier, on top of a dog house, trying to be all Snoopy like. In the doghouse was a cream lab/something/something, cowering. It was Russ and Polly. A man had noticed them by the side of a road one day on his way to work. The next day, they were still there and he brought them to MHF. Their collars were so tight they had to be cut off. They were adult dogs that had been dealt a bum rap. They were pretty uninterested in meeting us. Norm and I love a challenge.
We looked at each other and nodded. "We'd like to adopt them – both!". They joined our home a few days later and, from that day forward, slept in bed with us and the cats and never spent another day abandoned, frightened, outdoors.
I Have No Self-Esteem
Soon enough we realized why Russ was on top of that doghouse and Polly inside. It was obvious that Russ had kept Polly safe and alive through their ordeal. He was the boss.
Norm had a dream one night with Polly in it. She spoke with a lisp. "I have no shelf eshteem". We felt it was a direct message and from that day forward, worked on making her not only comfortable and happy and healthy, but able to move freely in this world with self confidence.
She and Russ were inseparable buddies and it was a great joy to see them tearing around the yard together, running in huge, crazy, happy circles. Polly, over time, came out of her shell, in little bits. She was never one of those kinds of lab mixes that was totally happy go lucky. Her love and affection were measured and, if she didn't know you, had to be gained. Polly earned the nicknames "Precious" and "Miss Polly Girl".
Polly in the Middle
Some time after Russ died, we considered adopting another dog for Polly. But she seemed to enjoy her status as "only" dog and just didn't seem all that interested in other dogs. She traveled the East Coast with us – camping everywhere from Surfside Beach, SC to Maine. She learned to ride an elevator at the Loews Hotel in Nashville, TN and swam and canoed in the cool waters of the Adirondack region of New York. She loved riding in the car, even if just to the Marshall post office. As she and Russ had done, we hiked many trails throughout the East.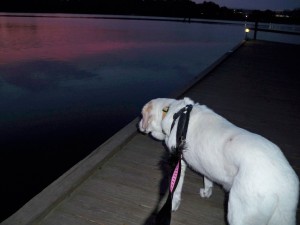 She was an active, funny, and wonderful companion, raring and ready to go – anywhere, as long as we were with her.
The Not-Always-Golden Years
Anyone who's been fortunate enough to have a dog or cat live past expectancy understands that their care becomes a labor of love. As faculties fail, it's our duty to help assist them and make them as comfortable as possible.
Polly was with us fourteen years when she started to show symptoms of Canine Cognitive Disorder. Getting stuck in corners. Howling/yowling instead of her typical greeting barks. Her last year or so, we carried her up and down stairs. Her last few months, we carried her almost everywhere. She no longer savored her food or dug holes (with her nose!) to bury and hide her bones to enjoy later. We were losing her but she wasn't in pain and it was our privilege to keep her comfortable and let her go as naturally as possible, when she was good and ready.
That day came last St. Patrick's Day – March 17, 2011. Although she eased us into the transition, she still left a gaping hole in our hearts and our home.
We mish you, Mish Polly. And your shelf eshteem.
Polly and Russ were kind of a happy accident. We were looking to adopt