We cat lovers often get short shrift when it comes to finding destinations that cater to our finicky tastes. Recently, Norman and I took a drive that led to unexpected feline riches.
Living in the Piedmont region of northern Virginia, we're within an easy drive of the Shenandoah Valley – but, even for those that live in the metro D.C. region, the Valley is a short hour's drive west. Just a few minutes further down I-81 South is historic and charming Strasburg, Virginia. We'd planned our trip to revolve around a Friday night Farmer's Market and dinner but came upon a beautiful art gallery called Ltd Prints.  Among all the locally produced, gorgeous art – everything from pottery to oils to mixed media, we found the "cat corner".
Amazing, fun, unique, whimsical art for feline fanciers!  But, that wasn't all – there were these darling cards and handmade "Catnip Kits", too!  Yummy!
After all the shopping and perusing, we were hungry.  All we had to do was cross the street to one of our favorite spots – Cristina's Cafe.  If the weather permits, you'll want to sit in the lovely outdoor garden area – surrounded by tropical and flowering plants, you'll feel like you're on a mini vacation.
Cristina's is known for using local ingredients in everything from their baked goods to entrees.  Everything is delicious and there are always vegetarian options on the menu.  They serve a fine cup of java, as well as an eclectic beer and wine selection.  Not to mention Route 11 potato chips.  Be sure to save room for dessert – everything is housemade and ridiculously good.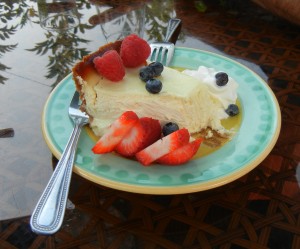 And, if you visit on a Friday during the season, you're in extra luck.  There's a Farmer's Market in the adjoining parking lot from 6:00-8:00 PM.  You will find live native plants and a wide variety of produce and baked goods.  We were especially excited to find yellow and purple beans, shallots, and a friendly farmer with a recipe for them at one table.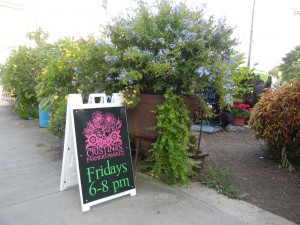 On our return home, Cassie and Fred were especially happy to greet us.  Apparently, the catnip in the Kit is especially potent and we had to secure it in the pantry to keep them from overindulging!
They were a little disappointed we didn't bring this one home.